In Sun City-the original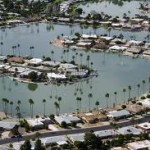 Sun City Arizona was among the first 55+ active adult retirement communities in the country in the NW part of the Greater Phoenix Real Estate area.
On New Year's Day 1960 Del Webb opened the doors in Sun City to the public. Years of planning & promoting led to an incredible 100,000 visitors who toured the property in the first weekend. Del Webb went on to sell 400 homes in the first month and 2,000 in the first year. Between 1960 and 1978, Del Webb continued to build a community that catered to the retirement dreams of thousands. It now has over 26,000 homes and nearly 44000 residents.
Del Webb pioneered the active adult concept with the notion that residents should be able to live in an entirely self-contained community with access to every amenity. There is an abundance of shopping, dining, surrounding area attractions such as Surprise Ball Park, the World Wildlife Zoo & Aquarium and Westgate Entertainment District which is home to NHL Arizona Coyotes & the NFL  Arizona Cardinals.
Sun City is preferred by buyers who want low property taxes, reasonably priced homes and mature landscaping in a good location near extensive shopping and close to the highway. These attributes, along with newly remodeled homes and recreation centers, make Sun City Arizona a value that cannot be ignored.
Area Features
Although Sun City has long been a favorite destination for golfers with 8 golf courses plus 3 country clubs, there are many attractions for non-golfers as well……7 recreation centers , 2 bowing centers, pools, restaurants, crafts , hobby rooms and countless social clubs.
In addition to the recreation centers, Sun City Arizona is home to 30 churches, a synagogue, social hall, grand ballroom, performing arts theater, two libraries and an on-site hospital.
The grounds of Sun City are active with amenities that cater to physically active adults. On any day of the year, it is common to see residents walking on the miles of trails or socializing with friends on the pickleball, tennis, horseshoe, lawn bowling and bocce ball courts. Plus, the softball field and fishing lakes are a great place to have fun or relax. The traffic on the streets has countless golf carts because in Phoenix you are allowed to register and plate your vehicle to drive the neighborhood as long as the road is 35 mph or less.
The current annual HOA assessment per lot is $456.
Homes
With homes that were built in the 1960s and 1970s, homes in Sun City are definitely affordable. As expected, homes built in those years show their age and lack some of the modern features and floor plans favored by active adults. However, many of the homes have been remodeled and now boast designs that include open floor plans, modern kitchens and desirable finishes.
There were over a hundred floor plans offered by Del Webb throughout the 18-year construction of Sun City. Although, due to remodeling, many homes no longer retain the original floor plan as when the home was built. Buyers can select from bungalow style single-family homes, patio homes (duplexes) and garden apartments. The many home styles and prices accommodate buyers of almost any budget.
Lifestyle
There are an estimated 200 clubs and interest groups represented in Sun City. In addition to the many clubs and interest groups, Sun City hosts an exciting lineup of fun activities that include fitness classes, continuing education, parties and organized trips to area attractions.
Sun City Arizona is known as "The City of Volunteers" for its overwhelming sense of community organization and resident participation. The manicured grounds and trash free boulevards are attributed to the volunteerism of the residents.