In Chandler-Sun Lakes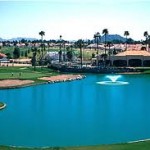 Sun Lakes is another Robson Community at Chandler in the Greater Phoenix Real Estate area. It consists of five country club style neighborhoods that each have their own golf course and amenity center built over a 30 year period.
Location
Sun Lakes Arizona is in a great location on the south side of Chandler just 24 miles from downtown Phoenix. The community is conveniently located within minutes to I-10 and the 202 loop. Gilbert, Mesa and many popular shopping outlets in Chandler are a short drive from the community.
Westgate Entertainment District
home of the NHL Arizona Coyotes and the NFL Arizona Cardinals is about a 40 minute drive.
Neighborhoods
There are five neighborhoods in Sun Lakes Arizona that include Oakwood, Ironwood, Cottonwood, Palo Verde and Sun Lakes Country Club. Each neighborhood has a unique look and feel. The original neighborhood in Sun Lakes is Sun Lakes Country Club, which is a non-gated community that was started in 1972. After the completion of the Sun Lakes neighborhood, Robson built Cottonwood and then the Palo Verde neighborhoods, which collectively contain 3,809 homes and share the same home owner's association (HOA). Both the non-gated Cottonwood and the gated Palo Verde neighborhoods offer private equity golf courses.
The fourth and fifth neighborhoods in Sun Lakes are Ironwood and Oakwood, respectively. These two neighborhoods are gated and are located north of Riggs Road. They share a common association which is known as Iron Oaks. Each of these communities offers the newest collection of homes and golf courses that are open to the public.
We are told by the Homeowners Associations that an 80/20 guideline for age restriction is used – meaning minimum of 80% must be at least 55+ and a maximum of 20%  may be at 40+.
Area Features
There is a clubhouse in each of Sun Lakes' five sections which include fitness centers, restaurants, hobby rooms, swimming pools and ballrooms. The grounds of Sun Lakes are joined together by miles of walking and biking trails, scenic parks, fishing lakes, bocce ball courts and tennis courts. For golf lovers there are five world-class golf courses in each of the Sun Lakes neighborhoods.
Regardless of where you live in Sun Lakes you can expect to have an assortment of enjoyable amenities at your fingertips everyday. The newer neighborhoods tend to have clubhouses with more lavish amenities.
Homes
This is a magnificent 6,683 home community. Homes in Sun Lakes  were built over 3 decades so as a result, home styles and prices vary dramatically. Some buyers prefer reasonably priced older homes while other buyers opt for more newly constructed homes that feature modern floor plans and desirable upgrades.
Home buyers can choose from a wide assortment of single-family and attached villas that range from 1,000 to 3,500 square feet. Not including manufactured homes there are several dozen floor plans. Many of these floor plans offer several different configurations which make the number of floor plan choices almost limitless. Association fees vary by neighborhood and most are paid bi-annually. Homeowners who choose to live in an attached Villa enjoy additional exterior maintenance provided by the association and therefore pay an additional condo fee each month. The original phase of Sun Lakes offers some manufactured housing.
Lifestyle
There are many clubs, activities and events at Sun Lakes Arizona that make the community ideal for active adults who want to stay both physically and socially active. Several dozen clubs meet on a regular basis. The community clubs and interest groups provide a great outlet for like-minded residents to gather with other homeowners who share similar passions. A community calendar is continually updated to inform residents of the latest fun activities, educational classes and exciting trips. Each association has an activities director and dozens of social clubs.