In Mesa-Leisure World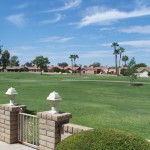 Leisure World is an active adult guard gated community located in Mesa part of the east valley in the Greater Phoenix Real Estate area. Twelve man-made lakes within the community contribute to the small town atmosphere of Leisure World. It even has its own post office and newspaper. Registered nurses at the wellness center provide medical care for residents.
Leisure World accepts residents as young as age 45, as long as 80 percent of all residents are 55 and over. This community consists of eight different districts. Each district at Leisure World has its own board which handles any type of community issues.
Location
This large community has stunning views of the Superstition Mountains to the east. Leisure World has easy access to Greater Phoenix via Highway 60 and Loop 202 Freeway.
Nearby Attractions
Westgate Entertainment District
, home of the NHL Arizona Coyotes and NFL Arizona Cardinals is about 40 minutes from here. MLB Chicago Cubs spring training is nearby.
Mesa has lots to offer with numerous museums, theaters, restaurants, shopping, professional sports, and arts and crafts fairs. In the immediate area, Leisure World residents can enjoy the shopping at Mesa Swap Meet, Dana Park, as well as the Fiesta Mall and Superstition Shopping Center.
Mesa is home of the Mesa Arts Center and is in close proximity to Canyon Lake, which offers year-round water sport and camping activities. Williams Gateway Airport is only a 20 minute drive away from Leisure World. Residents can also connect to Phoenix Sky Harbor International Airport, which is less than 30 minutes away. A drive along Apache Trail will provide some of the best breathtaking scenery in the state.
Greater Phoenix offers countless attractions including the Phoenix Zoo, Desert Botanical Garden, Piestewa Peak, the Boyce Thompson Arboretum, Chase Field for MLB baseball, Montezuma Castle, and South Mountain Park.
Area Features
A large clubhouse provides plenty of hobby rooms for arts, crafts, pottery, and sewing/quilting . A ballroom is also included for social events. A 10,000 square-foot state of the art fitness center with a fully certified staff provides training, either on a group or individual basis. Residents can also take advantage of the pools and sauna or steam room.
For outdoor activities at Leisure World there are plenty of tennis, pickleball, bocce, and basketball courts. Walking and biking trails run throughout the community. There are 2 great golf courses provide another way to enjoy the wonderful views and weather. There is a fully stocked library with over 15,000 books on hand.
Homes
Leisure World was started in 1972 and construction ended in 1994 with 2624 homes. Three different builders and over forty assorted floor plans created a very unique look to the streetscape.
Homes are reasonably priced and include duplexes, condos, attached, and detached homes, which range in sizes from 630 to 3,400 square feet. Traditional floor plans are common. HOA fees are reasonable and vary in cost according to landscaping preferences. Some homes feature desert landscaping, while others have grass.
Lifestyle
A full time recreation department is on hand to organize group outings and bus trips. Hikes north to the high desert in the mountains are especially popular. Travel agents are on the grounds to assist with more complex plans and vacation needs. Residents run many different clubs and organizations which cater to every interest imaginable, including groups for diverse religious practices.